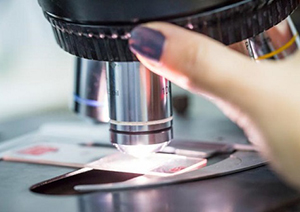 What is a Bladder Biopsy?
A bladder biopsy is a procedure in which a small sample of tissue is removed from your bladder and examined in the laboratory for the presence of tumors, infection, or other bladder disorders.
Why is a Bladder Biopsy Performed?
A bladder biopsy may be indicated to:
Examine a suspicious region discovered on a scan, X-ray, CT scan, or MRI scan
Differentiate between infection or a bladder tumor
Identify whether a tumor is benign or cancerous
Evaluate abnormalities of the bladder wall such as inflammation, cysts, or polyps
Preparation for a Bladder Biopsy
In general, pre-procedure preparation for a bladder biopsy will involve the following steps if the procedure is to be performed in an operating room:
You will be asked if you have allergies to medications, anesthesia, or latex.
You should inform your doctor of any medications, vitamins, or supplements that you are taking.
You should refrain from taking anti-inflammatories or blood-thinning medications a week prior to the procedure.
It is also important to inform your doctor if you are pregnant or might be pregnant, diabetic, asthmatic, or have any other medical conditions.
You may be asked to refrain from eating or drinking 6 hours prior to the procedure.
You should remove all metal objects and accessories such as eyeglasses, jewelry, watch, etc. as they can interfere with the imaging technique used.
You should arrange for someone to drive you home after the procedure.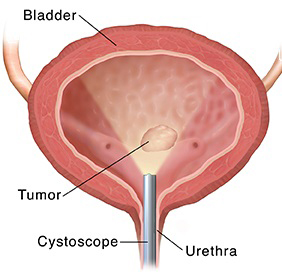 Procedure for a Bladder Biopsy
A bladder biopsy is typically an outpatient procedure and performed at the surgeon's office or a hospital. The procedure typically lasts about 15 to 30 minutes.
You will be seated in a customized operating table in a reclining position to perform the bladder biopsy.
An anesthetic cream is applied to your urethra (the tube that drains urine from your body).
A cystoscope (a lighted tube with a camera) is inserted into your bladder through the urethra. The cystoscope is used to fill your bladder with water or saline.
Your doctor will view the inside of your bladder for any abnormalities.
Tiny instruments fitted to the cystoscope are used to obtain a sample of abnormal tissue.
The sample is sent to the laboratory for examination under a microscope.
Postoperative Care
After the procedure, you may notice small amounts of blood in your urine. However, you should consult your doctor immediately in case of prolonged, heavy bleeding, exaggeration of pain, swelling, or difficulty urinating. You will be able to resume your normal activities the following day.
Risk and Complications
Risk factors associated with a bladder biopsy include infections, bleeding, and difficulty urinating. Some patients may develop a urinary tract infection which can be managed with antibiotics. Bleeding at the biopsy site is common. You should continue to refrain from blood-thinning medication for a period of time as advised by your doctor. Some patients have difficulty passing urine or may experience a burning sensation while urinating.
Results are usually available for a bladder biopsy within 5-7 days. You will either have a phone call or see your surgeon in person to discuss the findings.